Back to posts

Location Intelligence Insights around Propensity to Return to the Office post-COVID
September 10th, 2021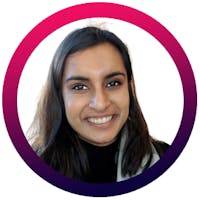 Nidhi Chandra
A Few Months Ago, While Undertaking Location Intelligence Analysis for a Project in Brisbane, the Data Told us Something We Didn't Quite Expect.
It told us that despite Brisbane's overall 'baseline' people movement surging beyond pre-pandemic levels to March this year (2021), people just weren't returning to offices in the same numbers as anecdotal evidence suggested.
So What Exactly Constitutes "People Movement" with Regards to Location Intelligence?

‍Think of people movement as the sum total of all our movements in a day – whether that's going for a walk around the neighbourhood or hopping on the train to go to work. We all know that this is exactly what COVID turned upside down for a while, but to what extent are these changes a permanent shift away from pre-COVID norms?
We don't have a crystal ball to answer this question, but we might have something better – Apple's MobilityTrends Reports! Given the dominance of iOS devices in Australia, this report offers some pointed behavioural observations on how urban residents have adjusted their movement patterns. We take Brisbane as the relevant example below. Here we see all the Apple iOS devices in Brisbane from 13 January 2019 (prior to COVID affecting life in Brisbane), until 26 August 2021. The different colours represent different modes of transport – Driving, Walking and Transit (public transport).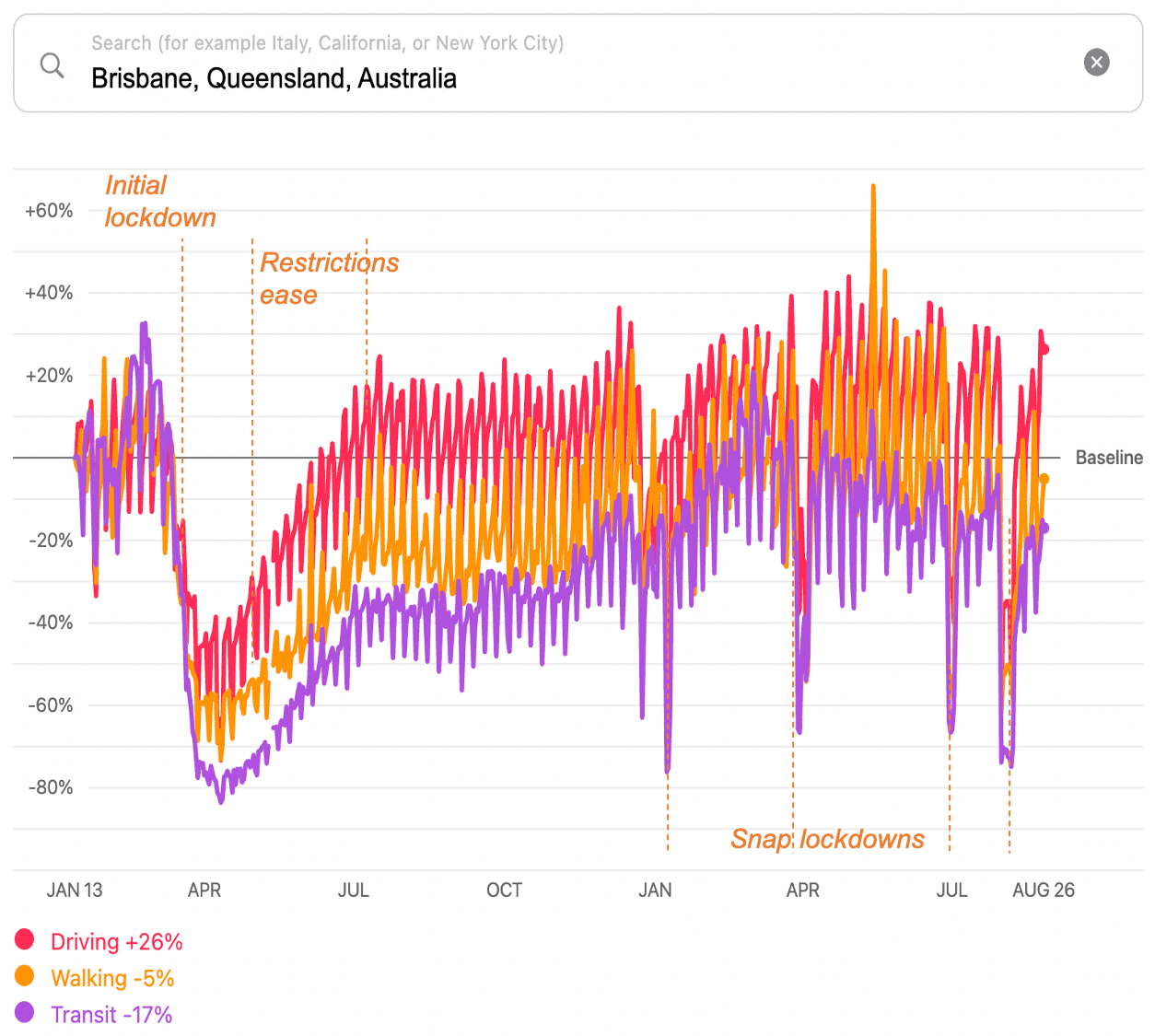 We see a sharp decline in movement at around March 2020 heading into April 2020, exactly when lockdowns and people movement under COVID restrictions began. You can also observe further sharp drops in movement induced by snap lockdowns.  
 You can observe that COVID has had a significant impact on public transport usage (labelled 'transit' in Figure 1), down by about 17% on average over the study period. In contrast, the 'driving' mobility mode over the period has seen an increase of 26% from the baseline. This makes sense in Australia where international and, to a lesser extent, state border closures for much of 2020 allow us to make inferences about locals' behavioural changes using this data.
To contrast this, let's take a quick look at Italy's people movement data.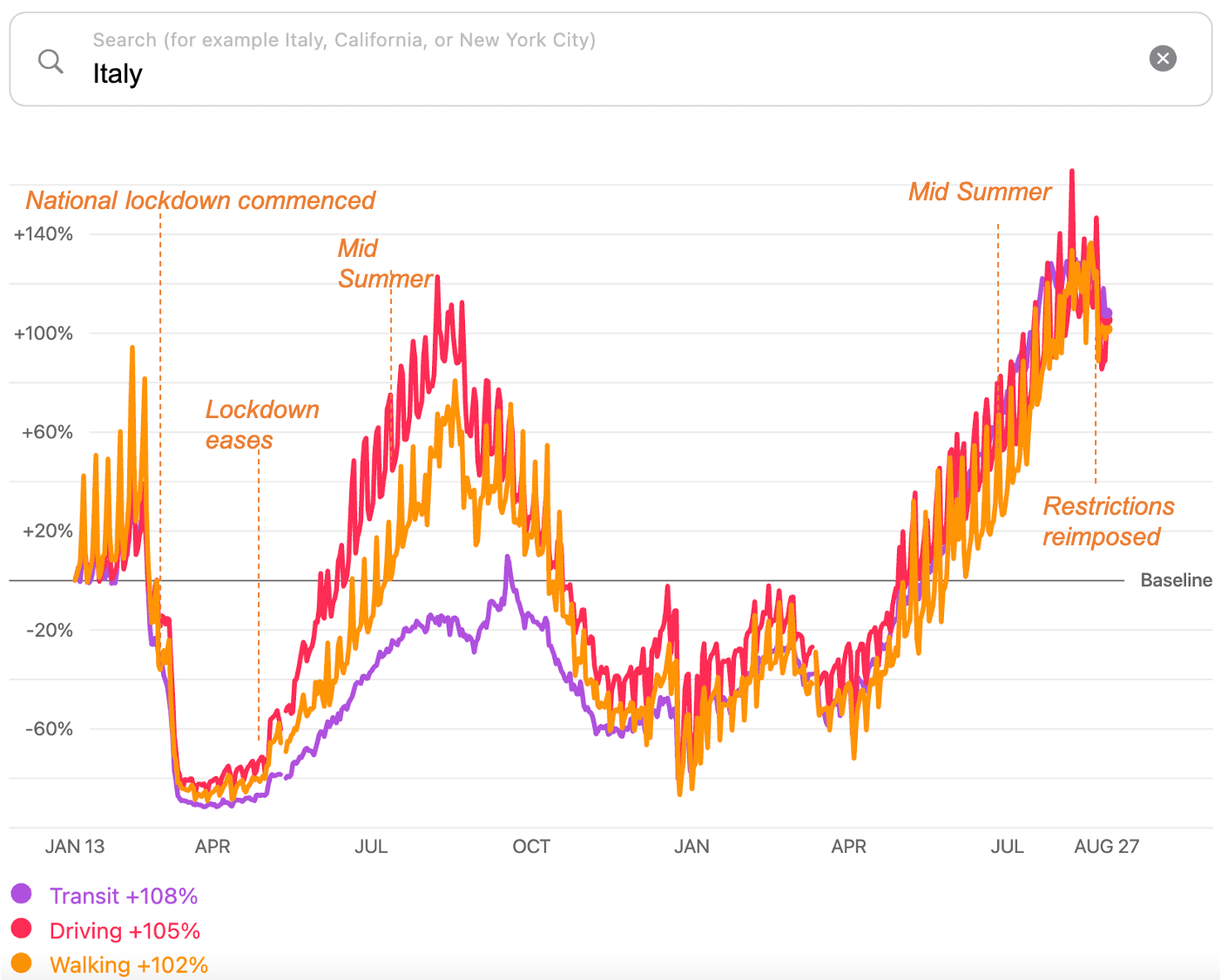 What's going on you ask? Summer and tourists. Italy opened its borders in January 2021 with limited restrictions and it hasn't looked back since, until very recently that is. In August 2021, some restrictions were reimposed, and we can see resultant drops in people movement activity levels above.
 While the Apple data is great to understand broad trends, for more refined and specific insights on behaviours, we need to dive deeper by applying location intelligence. This is where propella.ai excels.
Now We Can Focus in on the Brisbane CBD Using Our Location Intelligence
‍We analysed two undisclosed office buildings in the Brisbane CBD fringe, to understand the relative number of people coming into work at the building. Our results are below.

This graph reveals many fascinating insights. We see that the percentage of people going into the office is very low the week of 30/12/19, which can be accounted for by the Christmas and NewYear break. Then from mid-January 2020, we notice "normal" office activity until 23/3/20 – this is the day non-essential services shut down in Queensland, and tight COVID-restrictions caused a huge decline in people movement.
Then despite being out of lockdown, the percentage of office workers returning to these fringe office buildings remains below 40% and averages at around 20% of pre-COVID occupancy.
By comparison, the Property Council of Australia suggests that the Brisbane CBD was at approximately 50% occupancy in July 20 but then returned to 71% as at June 21, compared to pre-COVID occupancy.
Our analysis suggests that office workers in the Brisbane fringe have not returned to the office as strongly asBrisbane CBD office workers.
 So how is this data derived? At propella.ai, we partner with Near, the global leader in privacy-led data intelligence, to deduce people movement through analysing data originating from within a virtual perimeter of the office building.
Once we isolate this virtual perimeter of the area of interest (termed the "geofence"), we try and understand the type of users behind the location data: were they just visiting, or did they stay long enough for us to say that they're actually working in the building? Location data originating from someone who hung about is then mapped as a 'stay', whereas those passing by are mapped as 'travels' in Figure 3. Most importantly, once you plot daily or fortnightly averages like above, the relative difference in people's movements becomes immediately obvious. For example, reviewing the bar plot from 05/04/21 in the histogram - it's much lower from the week prior because Brisbane endured a snap-lockdown that week.
Back to the Question, "What is Mobile data and Location Intelligence Telling Us About Propensity to Return to the Office"?
‍The simplified version of this answer is that even in a city that has been largely unaffected by the global pandemic in comparison to Melbourne and Sydney, working from home is sticking and people aren't coming back to the office to pre-pandemic levels. 
While further research using larger sample sizes of office buildings across Australia is underway by propella.ai, our initial findings suggest that workers in CBD locations may be more inclined to return to the office than workers in fringe locations.
If you'd like to understand your building occupancy rates and trends, we can help you. Reach out today @ www.propella.ai/contact