Back to posts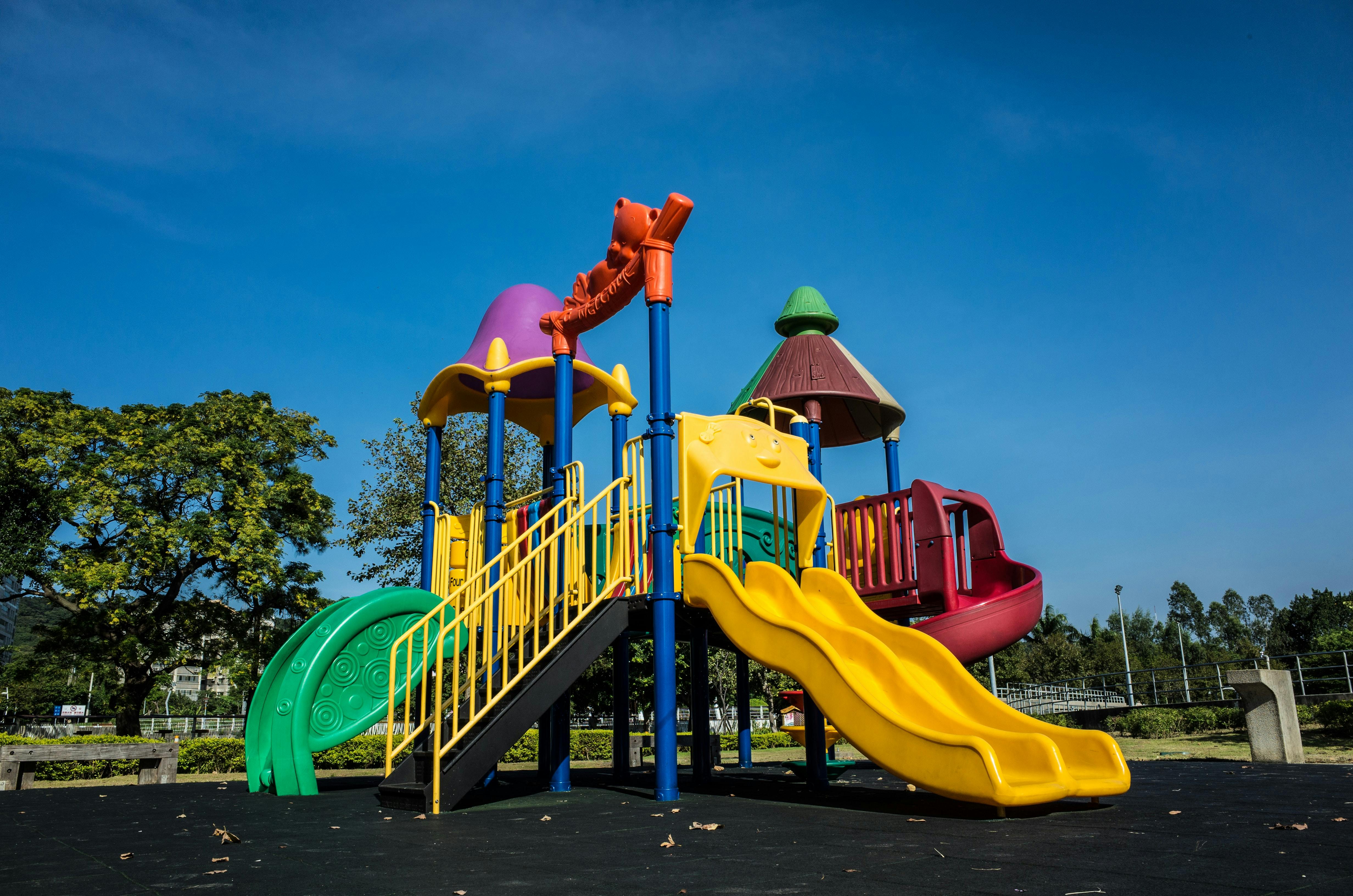 Social Infrastructure Planning for the 20-Minute Neighbourhood
August 9th, 2021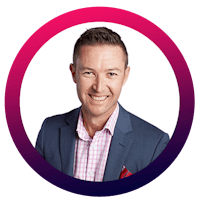 Gus McLennan
propella.ai has developed a tool that allows social planners to understand how well serviced a local community or a whole local government area (LGA) is in terms of different types of social infrastructure (eg, child care, sports centres, primary schools, etc.).  
This tool uses the concept of the 20-minute neighbourhood to underpin the evaluation of provision of social amenity to local communities.  The tool can rapidly assist urban planning, by easily visualising the provision of existing infrastructure, while allowing social planners to simulate the addition of residential populations and/or new facilities, to understand the impact of demand and supply.
Let's look at a worked example. But first, what is a 20-minute neighbourhood? ‍
The 20-Minute Neighbourhood Concept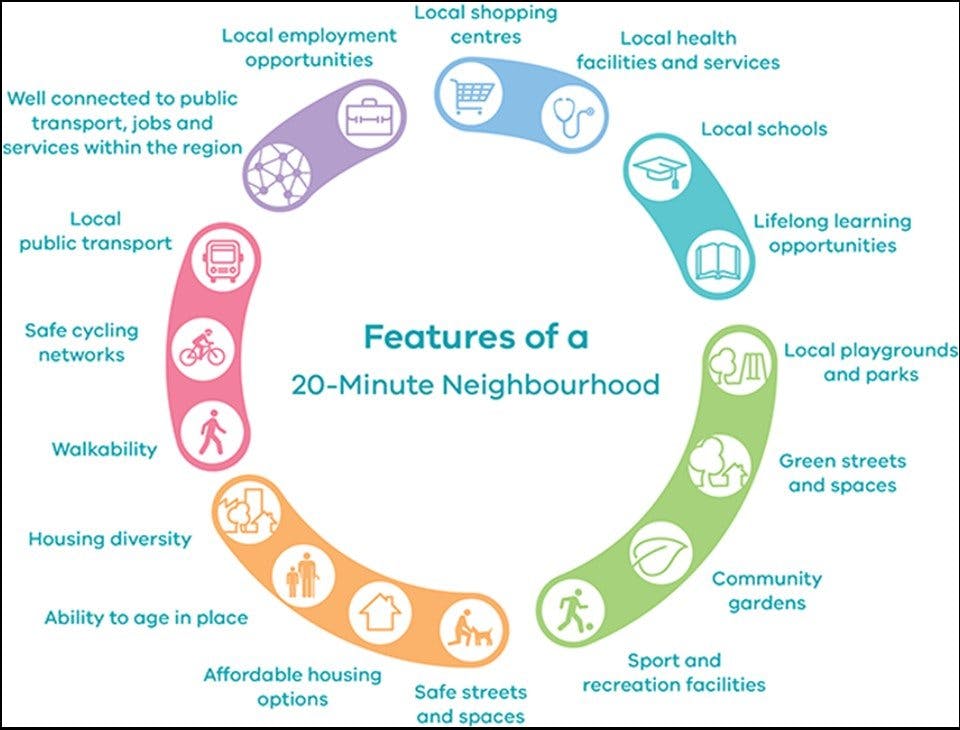 The 20-minute neighbourhood is an urban planning concept, initiative and policy of the Victorian State Government, as part of the Plan Melbourne 2017 - 2050 longterm planning strategy.  In essence, the policy states that local communities should be able to access most of their everyday needs within an area accessible by either a 20-minute walk, cycle or public transport ride.  The intention is to create more inclusive, vibrant and healthy neighbourhoods.
 But how can this policy be applied within the context of a local government area? We will work through an example.

Assessing Provision of Maternal and Child Health Centres in the City of Moreland (VIC) within the Context of the 20-Minute Neighbourhood.
‍
Our social infrastructure tool illustrates where Maternal and Child Health Centres(MCHs) are located within the City of Moreland (dashed line) and neighbouringLGAs. This can be seen in the map below (Figure 2).
 As we can see, there appears to be an even geographical spread of MCHs across the municipality.But does the position and capacity of each MCH provide adequate provision for the local communities within the LGA?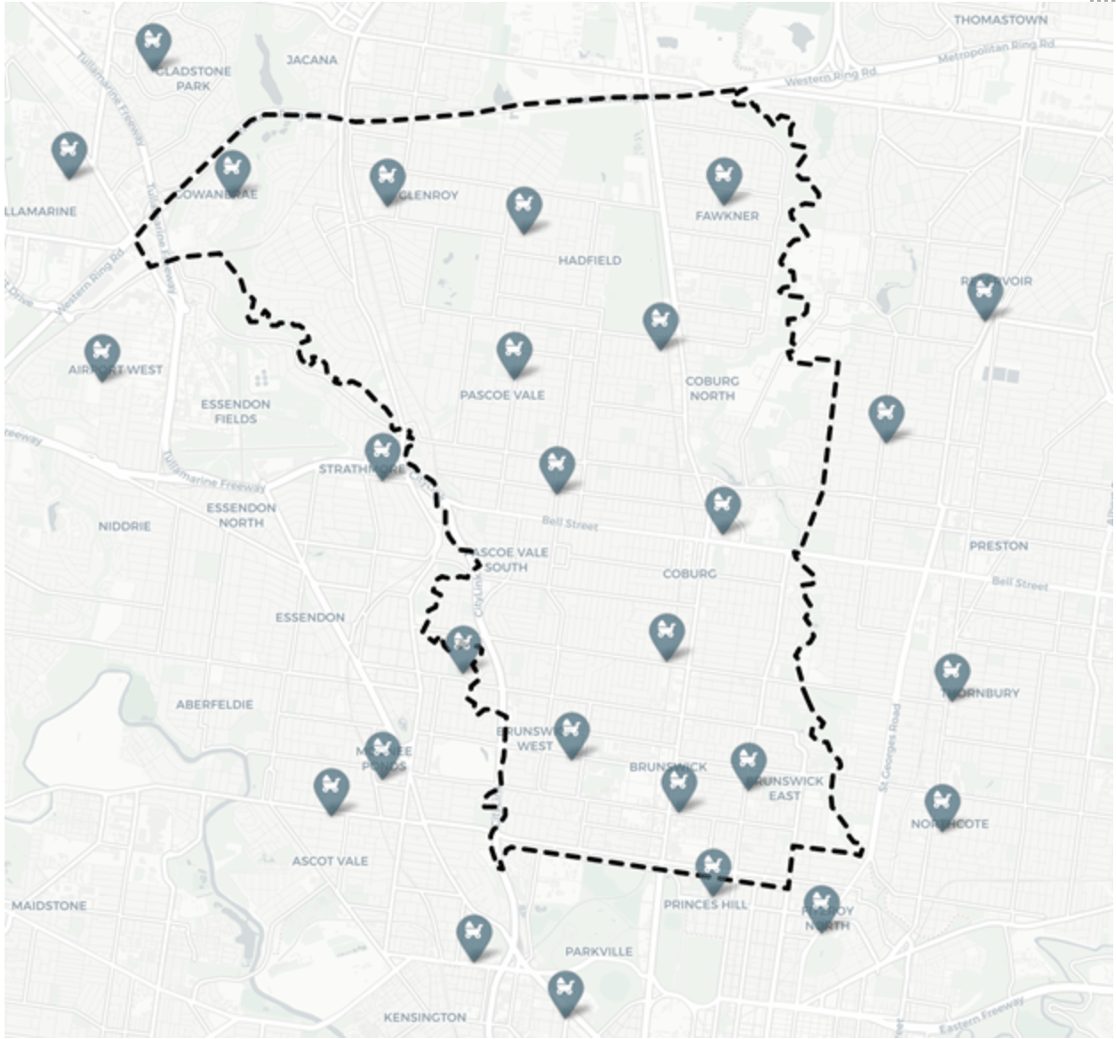 To understand how placement of facilities endorse 20-minute neighbourhoods, we can use our tool to add catchments around each facility.  For maternal health centres, the catchment has been calculated as the 20-minute walking area around each facility.  In the image below (Figure 3), these catchments are visualised as the blue shapes (called "isochrones") that surround each facility.  We observe, most areas have at least one MCH centre within a 20-minute walk. However, there remain some areas where it is not possible to walk to a MCH centre within20-minutes, such as in the northwest corner of the LGA.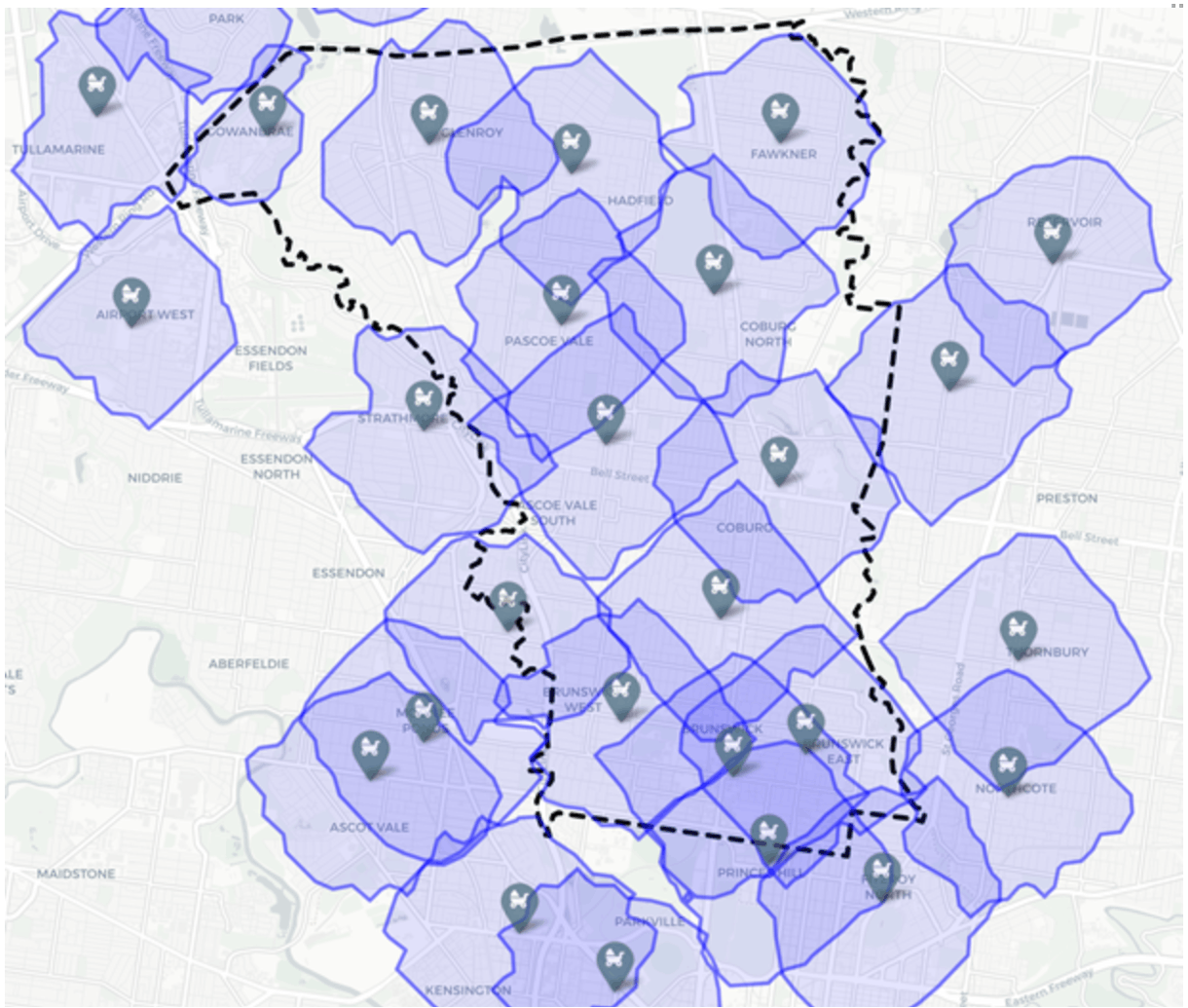 Next, we add residential areas to understand the how many households in the municipality have access to a MCH centre within a 20-minute walk of their home.  Residential areas are visualised within our tool as circular points ("dots"), illustrated in Figure 4.  Each dot represents an ABS statistical area called an 'SA1', which holds on average about 180 households. We have chosen to display residential areas as SA1 points to make it easiest to visualise where residents live within a local area or across the whole LGA.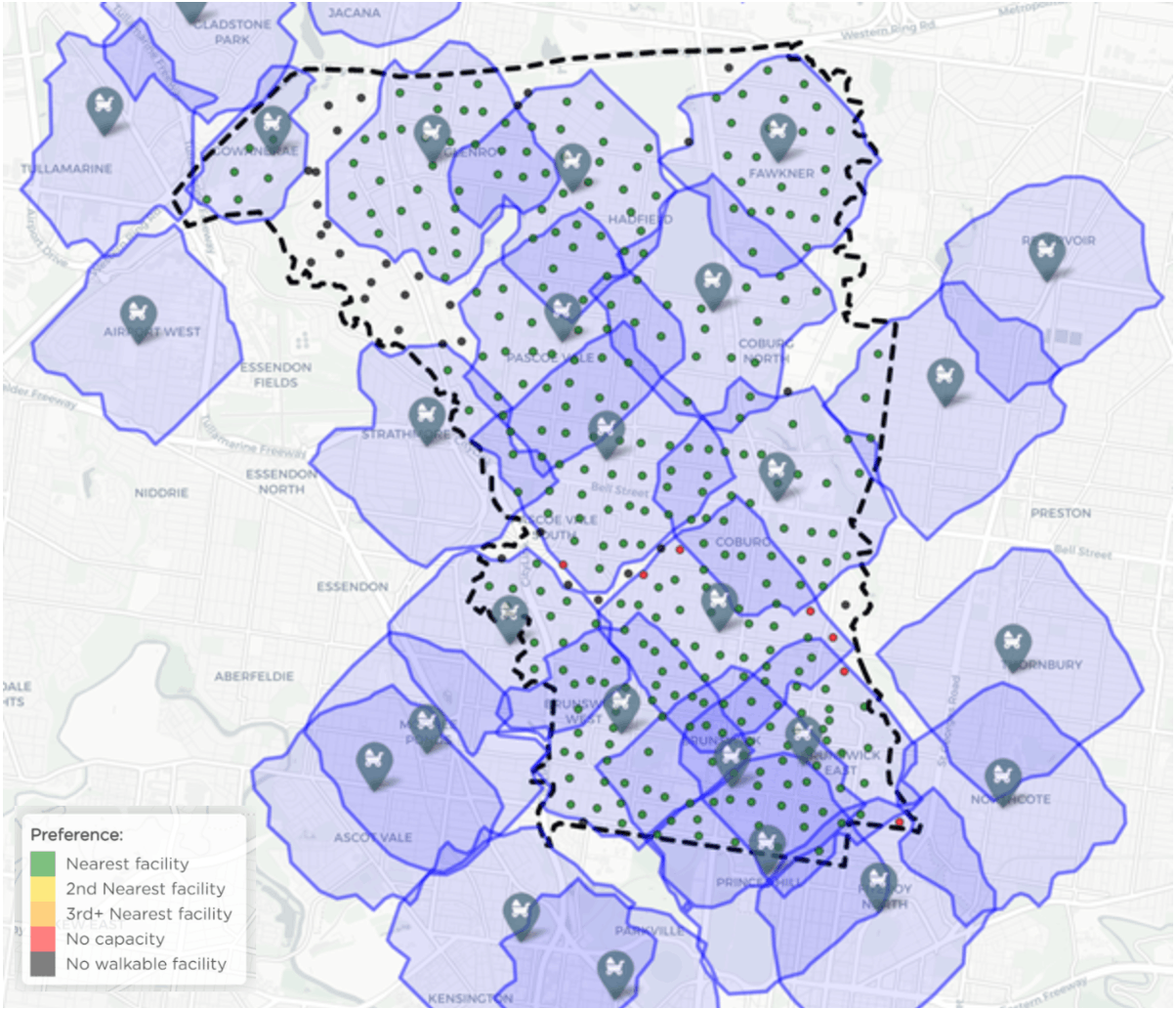 The tool uses a colour coding system to indicate whether each Residential area is(a) within the catchment of at least one facility, and (b) there is capacity for that residential area within the facility. The tool uses a custom algorithm to assign residential areas to facilities, based on logic that we will cover in another blog post.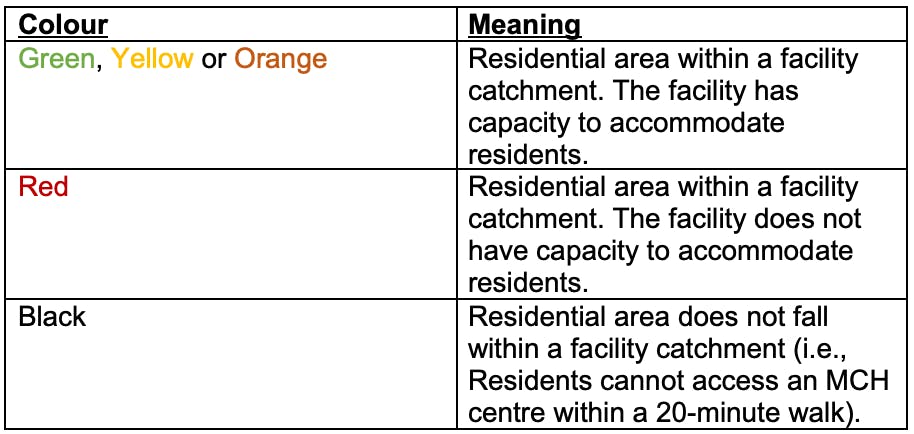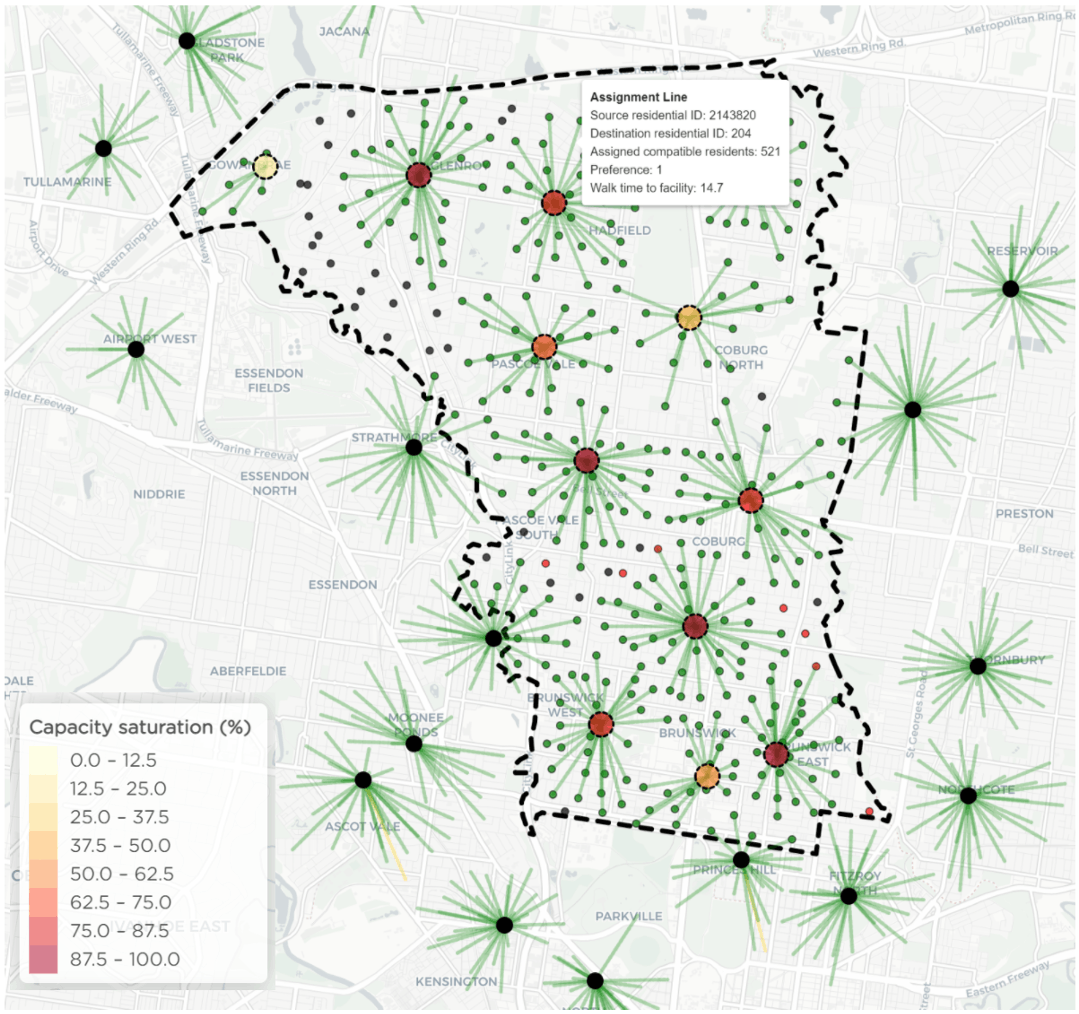 Irrespective of the 20-minute neighbourhoods, areas with higher population density will require more facilities to adequately service residents. Figure 5 illustrates how residents have been assigned to their nearest facility, or the nearest facility with available capacity.  This is done via the Assignment Lines.  As can be seen in Figure 5, the tool allows you to hover over an assignment line and view which Residential area is assigned to a facility, how many residents are within the Residential area, and how far the travel time is, on average, for residents to reach the facility.  The location markers for each facility in this map have been replaced with heat circles, then indicate how much capacity each facility has following the assignment of all residential areas.  The darker red the circle marker, the less remaining capacity the facility.

How does the City of Moreland rate for Maternal and Child Health Centres within the context of the 20-minute neighbourhood?
So finally, how well provisioned is the City of Moreland in terms of maternal and child health centres?  As can be observed from Figure 6, once we remove all other facility usage map layers and only show the Residential areas, the vast majority of Residential areas are green, with a handful of red areas (within a facility catchment, but no capacity for the households) and some black residential areas (not located within any facility catchment) which were largely to the north and north west of the LGA.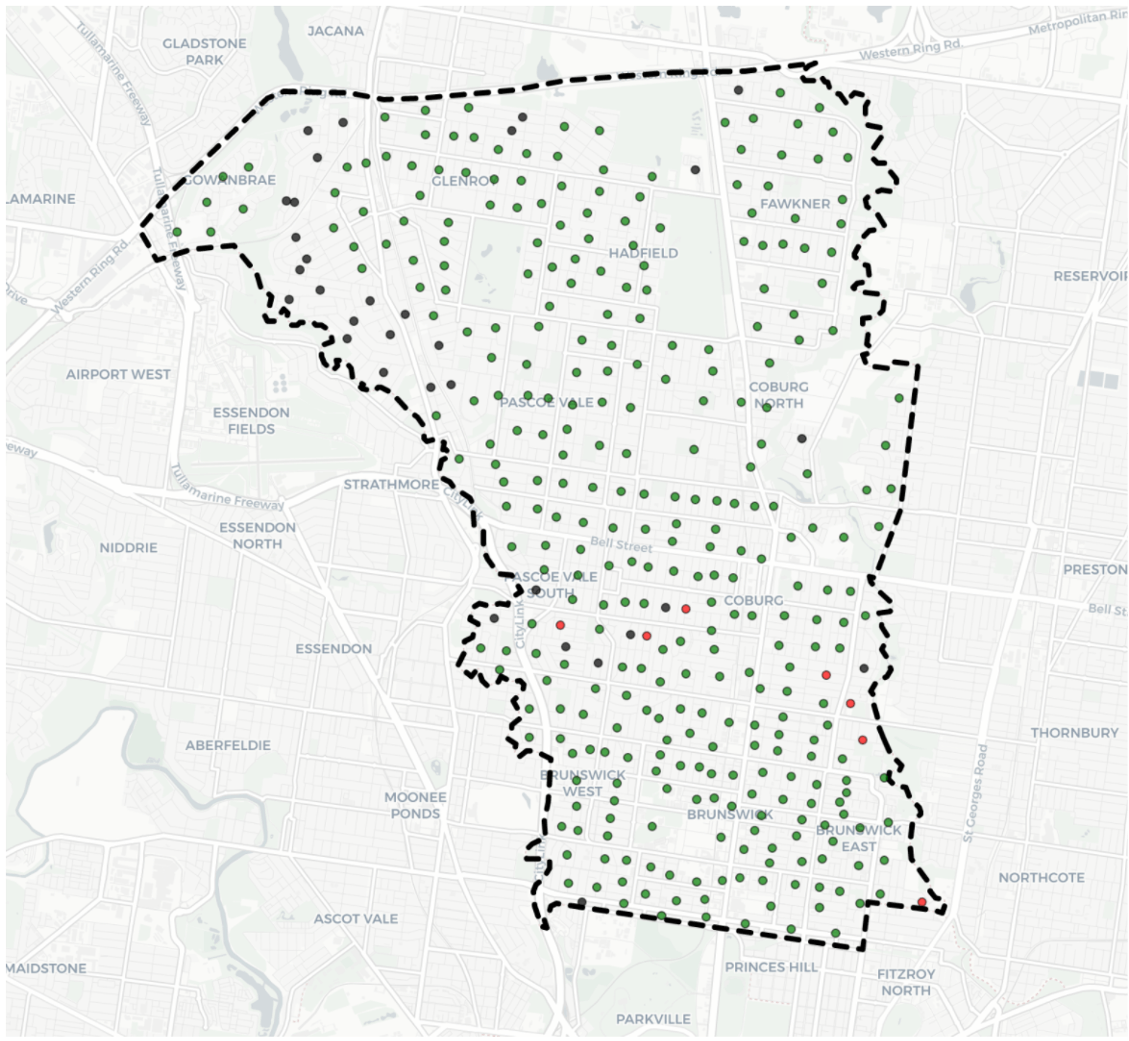 Our tool has estimated that nearly 90% of Moreland residents are serviced in terms of maternal and child health centres with the existing facilities (as indicated under '1st preference' in Figure 7).   This equates to about 167,000 residents within the LGA. Only 1.8% (about 3,300 residents) were within a MCH facility catchment but there was no capacity.  And just over 8% (about 15,000 residents) are not within a MCH facility catchment.  When these service provision metrics are compared to other LGAs (a blog post for another day!), Moreland receives a gold star for this facility type!

The data analysis described within this post was generated using our social infrastructure planning tool called 'SIMPLE' (Social Infrastructure Modelling& Planning for Local Environments). You can read more about 20-minute neighbourhoods and more specifically, how we measure "walkability" as a measurement of "liveability" here, https://www.propella.ai/post/measuring-the-20-minute-neighbourhood
If you would like more information about the tool, please contact us here @ www.propella.ai/contact