Back to posts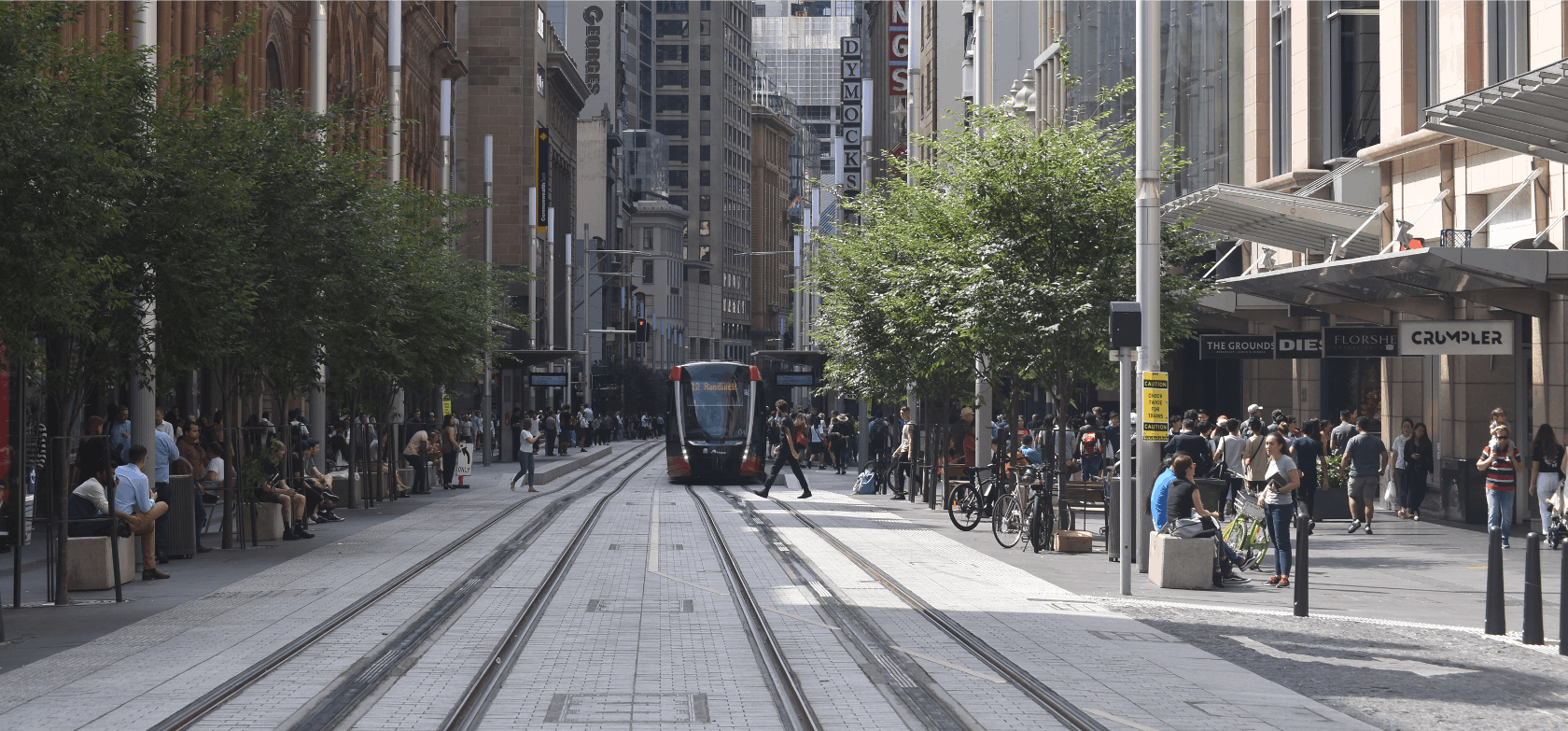 Public Transport Ratings for Office Buildings 
October 15th, 2021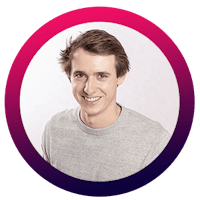 Jarrad Rinaldo
Demonstrating your office building's accessibility to public transport is a key factor in leasing your building to new tenants and retaining existing tenants, yet the property industry hasn't had a simple way to measure, rate and compare this – until now.  
Propella.ai has developed a tool to rate office buildings for their accessibility to public transport, to assist asset managers, developers and leasing agents with leasing and marketing their buildings, as well as helping tenant representatives and companies evaluate different office locations they may be considering. 
Public Transport plays an essential part in the lives of many people across not only Australia, but the world. While primarily used as a means to get from A to B (whether that be a daily commute to work or as a one-off where it would be less convenient to drive), public transport also boasts a number of other benefits. Reduction in traffic, reduction in pollution and financial savings (compared to the costs of owning a car) are a few of the additional advantages of catching public transport over travelling by car.
At propella.ai we see the benefits of public transport as being so important, that it's one of the largest factors we score when assessing the liveability of a location. If you're interested in learning more about how public transport impacts the liveability of a residential location, this is an interesting article on the topic here @ https://www.corelogic.com.au/news/new-liveability-rating-score-designed-provide-consumers-insight-where-buy-and-invest 
Similarly with Public Transport being so prominent in the lives of workers, we wanted to measure the extent to which public transport services the "workability" of any given office building.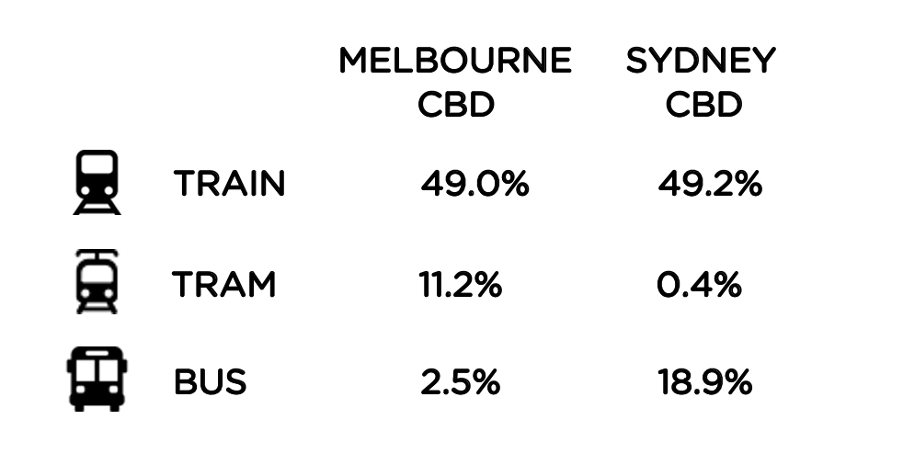 How do we Score Public Service Accessibility for Office Buildings - in a Meaningful Way
Using CLUE (Census of Land Use and Employment) Melbourne Building data as a baseline, we looked at each of the roughly 14,000 buildings' accessibility to Melbourne's three main public transport offerings: being Trains, Trams and Buses. In this case, accessibility is scored based on the time it would take a person to walk from a given building, to the nearest Public Transport offering of each type (we don't measure it as the crow flies as that would be misleading). The walking time takes any geographical boundaries and even the time to cross roads, into consideration. 
It is only when we compare the accessibility scores against one another, that any given building's access to Public Transport can be measured in a more meaningful way. It allows a deeper understanding of how well a building or development site is serviced by public transport, enabling a more thorough analysis when assessing the location of a building. 
Figure 2 depicts how Public Transport scores can be viewed for a specific building or site. In this example, we have analysed propella.ai's office location at 414 La Trobe Street, Melbourne.  

The Public Transport Accessibility scores in Figure 2 reveal that the propella.ai HQ is very well serviced by Public Transport. Trains and trams are easily accessible from our office compared with other Melbourne buildings. We are in the top 1% of Melbourne buildings with accessibility to a train station, which makes complete sense given we are only 100 meters from Flagstaff Train Station. We are in the top 7% for trams, and for buses the top 21%. It's safe to say that access to Public Transport is not an issue for us at propella.ai.
Use Walk Paths around Commercial Office Buildings to Calculate Accessibility 
As mentioned previously, the scoring system does not use the straight-line distance to the public transport option, but instead the calculated walking time from the analysed building to its nearest Public Transport offerings. The actual walking time gives a more accurate representation of how reachable public transport is from a given point, than just using a straight line which wouldn't take into account tunnels, bridges, rivers, major roads etc. that may separate the building from a train, for example.
We calculate the walking time using similar technologies to that we use to create isochrones (7-minute walk areas) for much of our other building and location analysis. You can read about how we calculate walking areas in our blog here @ https://www.propella.ai/blog/defining-trade-areas-using-worker-movement-to-support-trade-area-analysis-for-office-buildings
These walk paths can be visualised as seen in Figure 3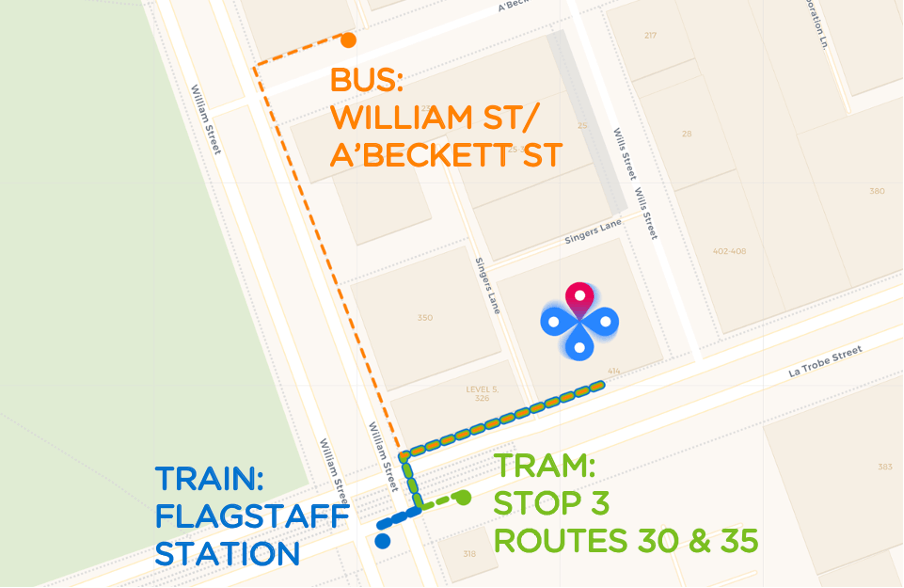 How can Asset Managers, Developers, Leasing Agents and Tenant Representatives use this Analysis? 
So why is it helpful to know how accessible a building/site is to various public transport options? How can we use this knowledge to help aid future decision-making? 
As previously mentioned, Public Transport is essential in many people's lives, so much so that it's been listed as an essential service during the COVID-19 pandemic. The benefits of using Public Transport (environmental, financial, time etc) and the fact that owning a car has become less of a necessity in recent years, has resulted in many commuters switching to public transport, and therefore a growth in public transport usage. (Ref - https://www.ibisworld.com/au/industry/public-transport/1965/) 
I believe that the importance of close access to public transport will continue to increase over time. As a result, this factor will continue to impact a building's attractiveness to office workers ("workability") and ultimately the building's valuation. 
Accessibility to public transport can be a very useful metric for investors, asset managers, developers and leasing agents to evaluate and market their building. Tenant representatives and companies can also rate and compare different office locations they are considering.  
Using propella.ai's tool to measure accessibility, such analysis is simple and easily digestible. 
If you'd like to understand how your asset, development site or workplace rates for accessibility to public transport, get in touch today @ https://propella.ai/contact