Back to posts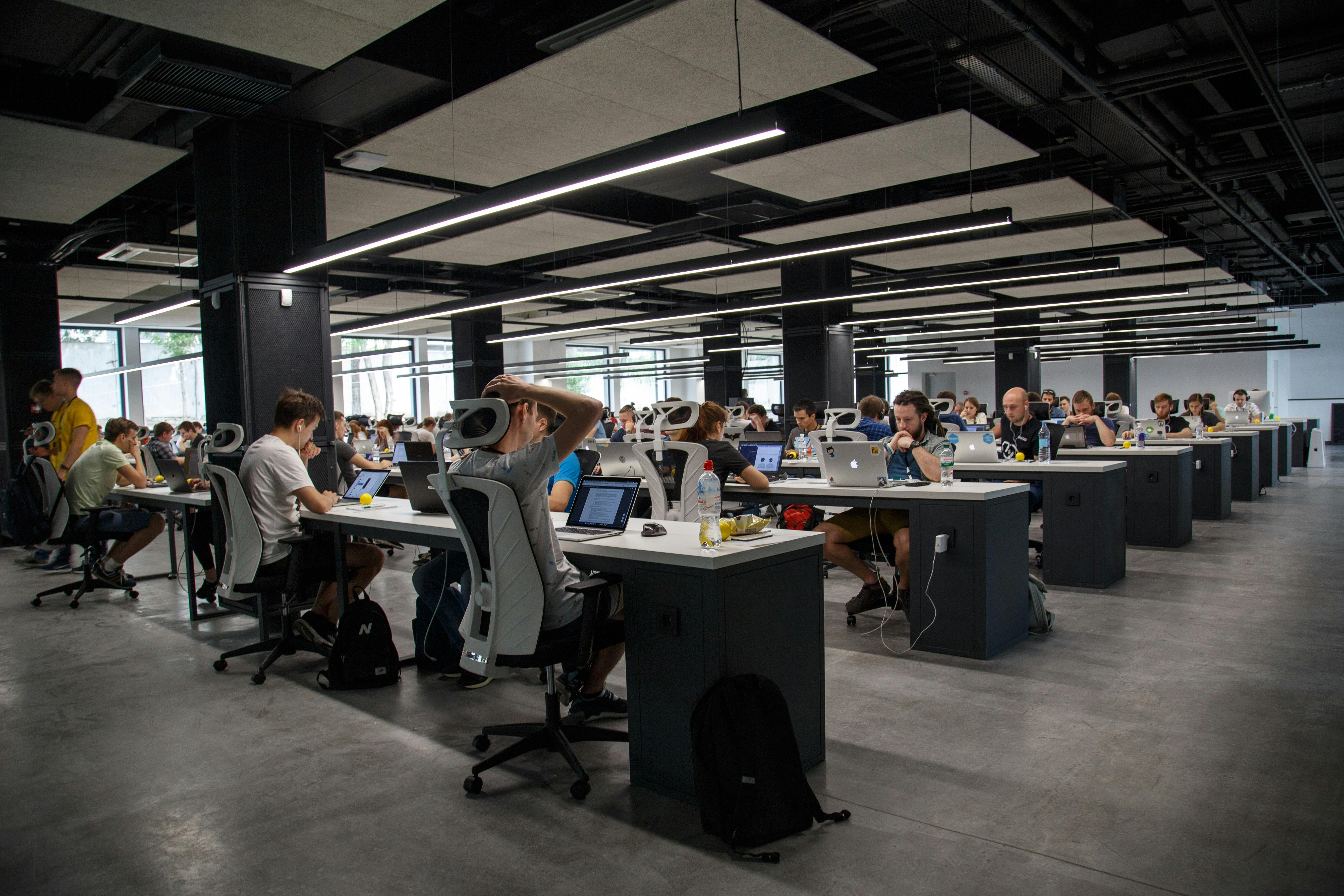 How to Use AI Technology to Gain a Competitive Edge in Office Leasing
June 23rd, 2022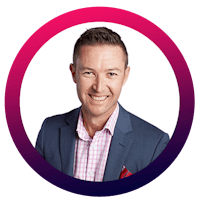 Gus McLennan
Understanding your customer is fundamental to successful office development, asset management, leasing and marketing outcomes. But how can we gain a deep enough understanding of customers to effectively position office assets to their needs and preferences - and successfully market to them?
Office leasing is an incredibly competitive space, more so now than ever before. In the last several years, offices have become more than somewhere to work from - they are expected to be communities; offering enjoyment, fulfillment, and purpose.
What was once a radical idea is now a quantifiable fact - data shows those who are offered abundant amenity, enjoyable experiences and feel connected to their building communities are returning  in greater force to offices post-COVID.
Whether leasing a new office development or an existing asset, the amenity, local retail, access to public transport, activations and other placemaking initiatives are the new battleground for attracting and retaining office tenants. Using AI technology, asset, development, leasing and marketing managers can now get unparalleled insight into target tenants' preferences and gain a competitive edge by positioning their asset to best match the needs and wants of their tenants.
Working with what you have & competing with newer builds
New office buildings have tenant preferences in mind from the very beginning of planning. Amenity, lifestyle elements, sustainability - big drawcards can be determined and built into new office buildings to make them highly attractive to tenants. Many clients that we work with come to us to help them at this early stage of a proposed development, needing assistance with understanding their target tenants and location surrounding their site, to help inform the design of the building.
But what about existing office buildings? There are hundreds in Melbourne alone, many of them built decades ago. It's not feasible to continuously update existing assets to keep up with the changing attitudes and expectations around what buildings and building communities should offer.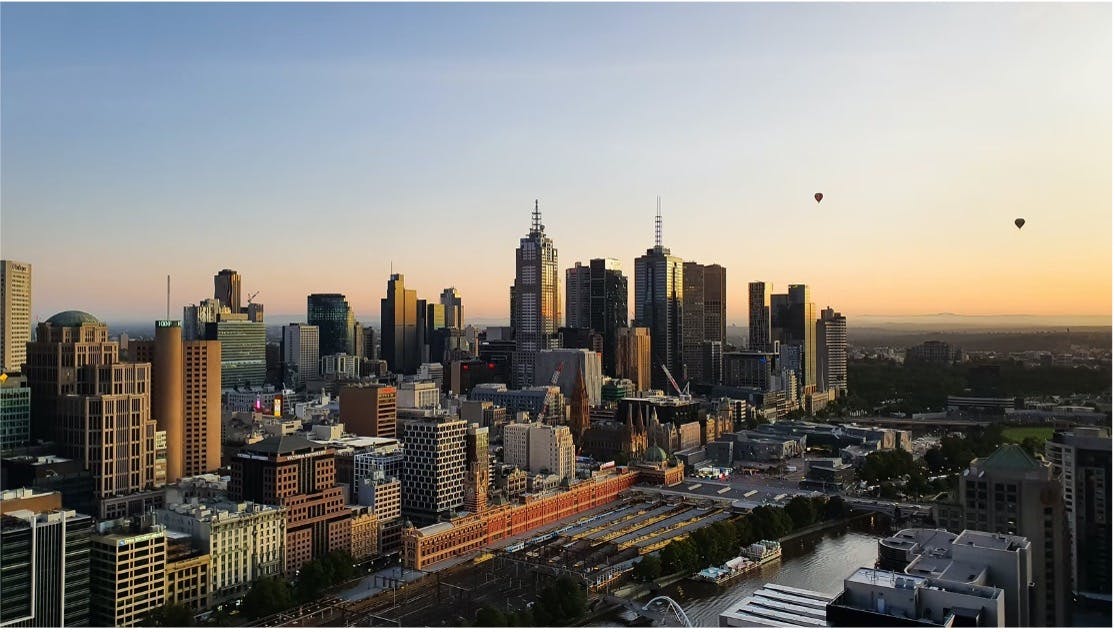 Yet, the same AI technology that can help architects and development managers of new assets pinpoint what kind of building to create, can also help leverage existing assets and amenity to provide a competitive edge when attracting tenants by identifying the kind of tenant that would be attracted to the features an existing building has to offer. And at the same time, help maximise the things that can be changed and controlled more easily, including retail offerings, events/activations, and internal amenity.
Find you ideal tenants using AI technology
Marketing a product requires a deep look into the attitudes, preferences and characteristics of the target market. Marketing an asset can and should be approached in the same way: Seek tenants that are seeking what you have to offer. 
By identifying data points and characteristics of certain industry workers, it is  possible to determine their behaviour and how they interact with buildings, as well as what they're most likely to be drawn to in terms of events, amenity and more. This is done by: 
Geo-fencing
When you use industries as a guide, analysis can be undertaken by using existing buildings that have a large proportion of tenants from that industry (for example, office buildings that have banks as the major tenants). Using geo-fencing technology, a statistically significant sample of people that work within the selected buildings for each industry are anonymously identified and profiled via mobile location events.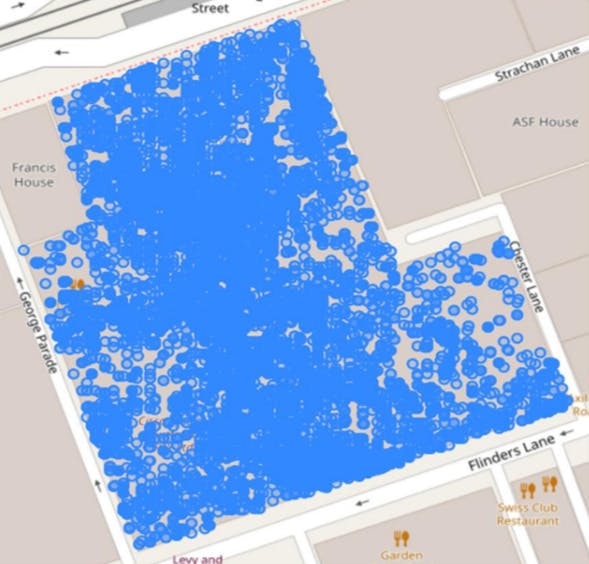 The image above shows a statistically significant sample of mobile location events identified within a commercial office building (blue dots). Note we use de-identified mobile data (i.e. data that does not contain personal information such as names or addresses).
Classifying occupants
Proprietary AI algorithms are run across the sample mobile location data, to separate office workers from visitors. Mobile devices are classified based on frequency, days of the week and hours of the day observed for the device, to probabilistically determine if the device is associated with a worker or a visitor.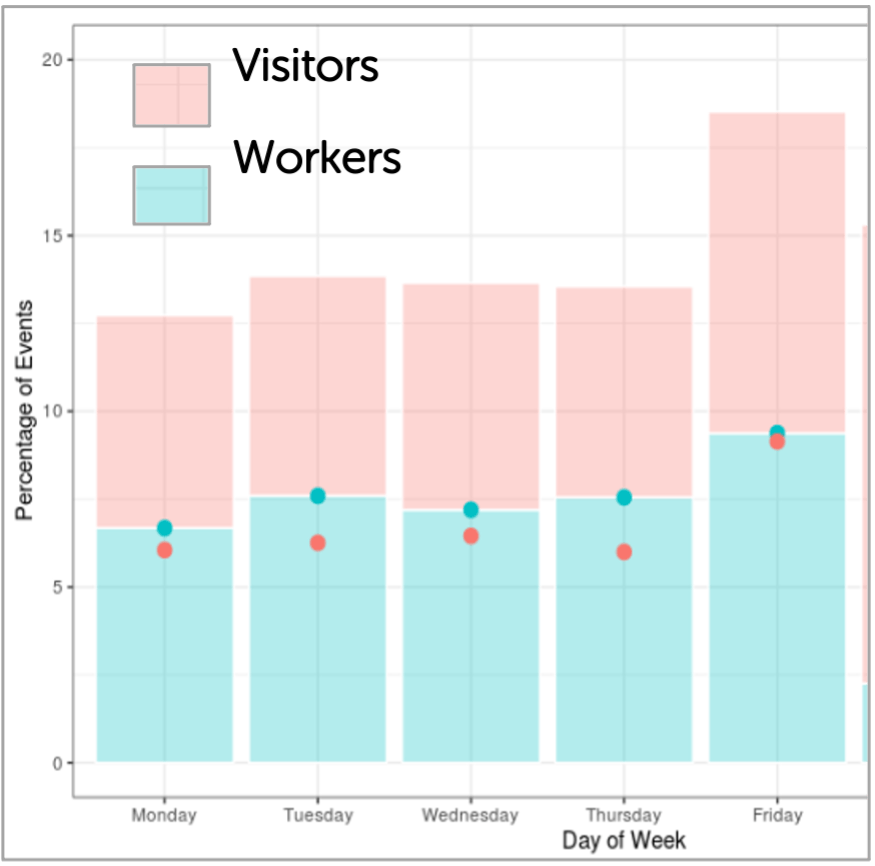 Analysing locations & movement
An approximate home location for each worker device can be identified at mesh block or SA1 statistical area level.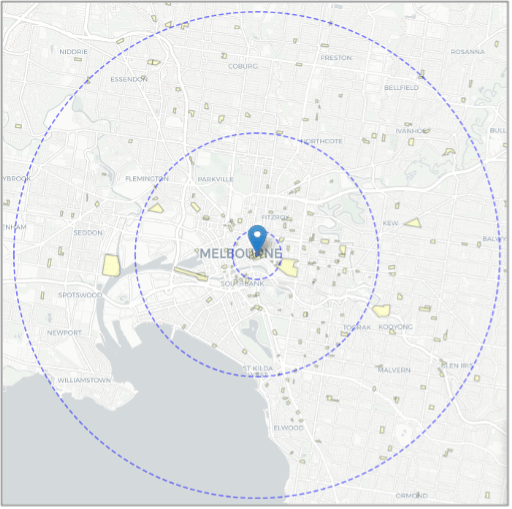 People movement analysis can also be undertaken, including worker activity levels within a chosen building and movement outside the building at different times of the day and day of the week. This is another lens to use to understand office worker behaviour. (If you'd like to learn more about worker movement analysis, you can read our blog on the topic here.)

Helix Persona's
Using the approximate home locations, psychographic profiles can be assigned to workers to impute their values, attitudes, attributes and likely behaviours and effectively identify and define services, messages and experiences to resonate with these people.
Demographic attributes can also be assigned for insights on the age, income levels, country of birth etc., of the workers.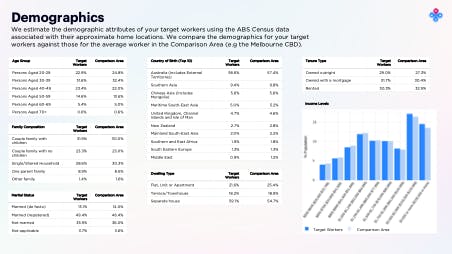 Take asset value & leasing outcomes to new levels
A group of office buildings with banks as the major tenant were geo-fenced to generate the below psychographic and home location insights about workers in the banking sector. 
We can see, for example, that workers in the Banking industry are predominantly of the Leading Lifestyles and Metrotech Communities. They are highly educated, ambitious, and socially aware. They like to travel but also be out and about and make the most of what's around them, particularly good food, wine, and entertainment. They typically live in suburbs such as Point Cook, Melbourne, Docklands and Mount Waverley.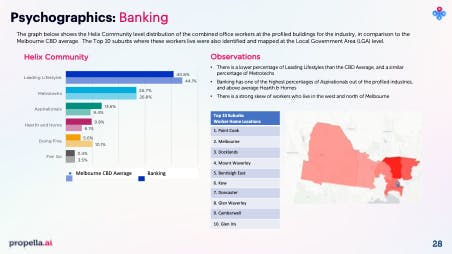 The psychographic data captured can also be compared against hundreds of other data points, giving further insight into how often and recently different groups participated in different activities (eg. going to a café, restaurant or bar, doing a yoga or pilates class, or having their shirts dry cleaned).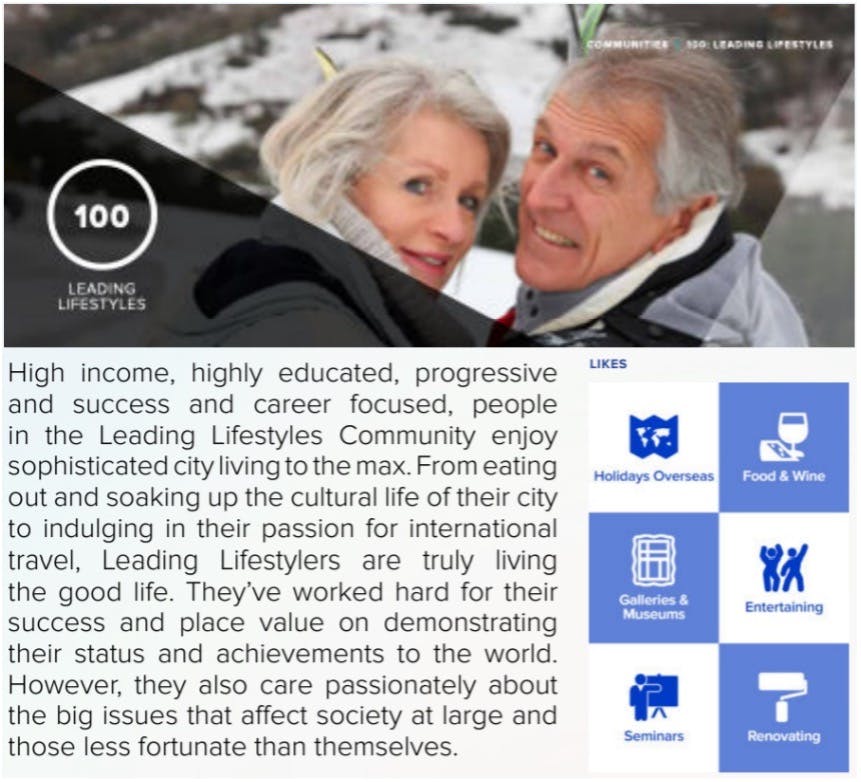 This information, gathered by AI technology, can help you to position your existing asset or new development, secure new office tenants and drive asset value by demonstrating that:
·      You understand your target office tenants as people and think of them as customers
·      Your asset's location already provides excellent amenity and accessibility
·      You are prepared to tailor additional amenity, services and experiences to meet the needs of their business and people.
Other industries have used advanced analytics and artificial intelligence for years, and now the property industry is able to leverage these same capabilities to improve leasing opportunities and better serve tenants.
If you would like to explore the potential of AI and Maximise asset value for your properties using AI-generated insights, reach out to us.